---
DL EXPANDS DISTRICT BORDERS WITH NEW EDUCATIONAL OPPORTUNITIES FOR NEARLY 200 STUDENTS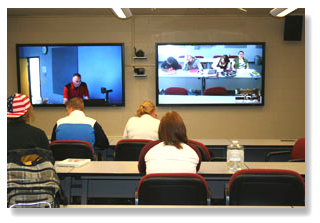 A new partnership between NERIC's eLearning Service, Questar III and Coxsackie-Athens School District is helping support the district's mission of "Preparing Today's Youth for Tomorrow's Possibilities."
"The distance learning program at Coxsackie-Athens has provided students here and in the region with tremendous opportunities that they may have otherwise not had access to," explained Carly Mead, technology integration specialist for the school. "Our students have options to enroll in cutting-edge courses in technology, foreign language, business and American Sign Language, all of which support the 21st century skills which are essential to college- and career-readiness."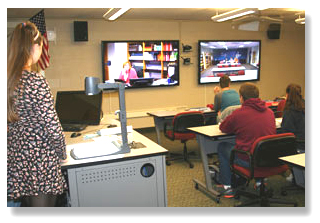 In the distance learning classroom, Coxsackie-Athens students connect with instructors and students from such districts as Berne-Knox-Westerlo, Brushton-Moira and Taconic Hills, a district also new to distance learning as of this fall. During a French III class with Taconic Hills, the students interacted through video screens, asking and answering questions in French while the teacher observed. "I think it's interesting that the class is taught this way," shared a student. "I can find all my assignments on the Internet. We even have a special app on our phones that allows students to communicate with each other. It's like Facebook, but for school!"

In certain classes, the use of laptops has made distance learning a virtually paperless experience for the students. When materials are involved, a teaching assistant located in the classroom aids students in placing their assignments on a document camera for the teacher to see and verify. Later the assistant scans the documents and sends them electronically to the instructor.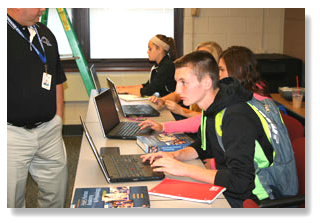 "The program here at Coxsackie-Athens has been a collective effort between teachers, administrators, representatives at NERIC and our professional partners at districts from all across New York state," added Mead. "We are very pleased with the feedback we have been


receiving from students about the programmDistance Learning studentsing that is being offered this year and we are excited about how our distance learning program will continue to enrich the lives of students in the years to come."